Welcome to TROVA HOME.
Let's get you acquainted with your HOME device.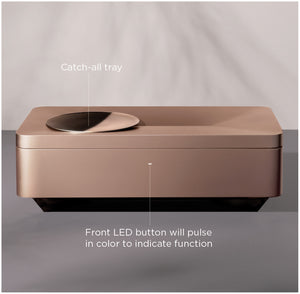 LED color coding
Front LED
Device starting: pulsing GREEN
Device connected: solid WHITE for 5 sec
Unpaired App: solid BLUE
Added to App successfully: solid GREEN for 5 sec
Wifi Scanning: pulsing YELLOW
Unlocked successfully: solid GREEN 5 sec
Unlock blocked due to low battery: pulsing RED 5 sec
Locked successfully: solid RED 5 sec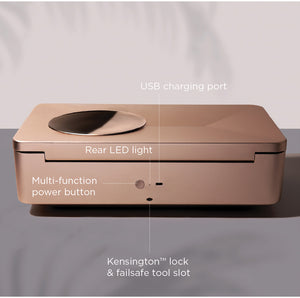 Rear LED
Plugged in: solid RED charging; solid WHITE fully charged
Battery status: RED low, YELLOW medium, GREEN fullCable unplugged: no light
Now let's get you connected.
Download the APP at the AppStore or Google Play. Launch the TROVA app on your smart phone.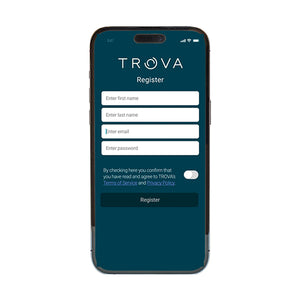 Launch the TROVA app on your smart phone.
Please create an account following the prompts in the app as shown below. Please note you will need to access a verification code sent via email.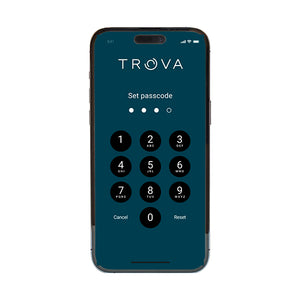 Set your APP Passcode.
Please enter a 4 digit passcode to enter the TROVA APP. This code will grant you access to unlock your TROVA remotely so should be remembered and kept safe.

The app will now ask you to allow it to use your smart phone's native biometrics such as facial recognition (Face ID) or thumb print (Touch ID).

(HOME SPECIFIC) To turn on your TROVA HOME, press the multi-function button located on the back side of your TROVA. The front LED light will pulse green which indicates your TROVA is on.

Next, follow directions on the app, making sure Bluetooth is on in your smart phone's settings.

The app will automatically search for a new device within a 5-1 foot range.
ADD TROVA TO WiFi*
*Only compatable with personal Wifi.
Not compatable with public/corporate Wifi.
To add your newly named TROVA HOME to your WiFi, choose your WiFi, enter the password. Click connect. While connecting, a yellow LED light on the front of your device will pulsate.
Once WiFi is connected, the light will glow solid green for 5 seconds.
The app will take you to the main screen. You can see TROVA HOME there. If you do not see your TROVA HOME on the app screen swipe left to add the device and repeat the above pairing sequence.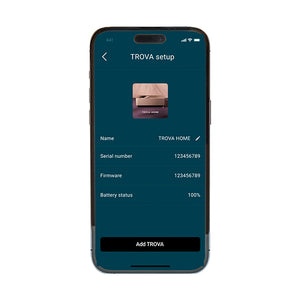 Once discovered TROVA APP will show device has been found.
Front LED will turn solid blue indicating TROVA unit has been found.

Feel free to customize the name of your TROVA HOME (for example SANDSTONE LIVING ROOM).

Click Add TROVA.

A solid green LED light will glow for 5 seconds to indicate that TROVA HOME is paired.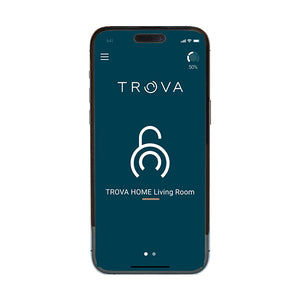 Success!
You are now paired, authenticated and ready to unlock your TROVA.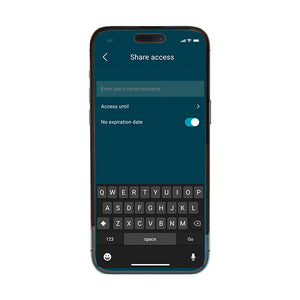 Share access & add users
On main screen press and hold the device name.

Choose Shared Access.
Input the necessary fields.

Confirm all the information.

Viola! Feel free to share the link provided to your new TROVA user.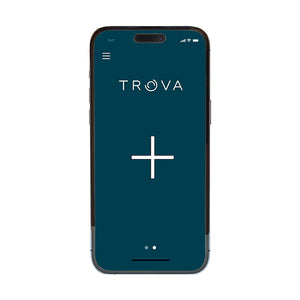 Add a new device to an existing account
Log into your TROVA app

Main screen will show any currently paired devices.

Swipe screen to the left and you will see a + sign.

Click to scan for new TROVA devices.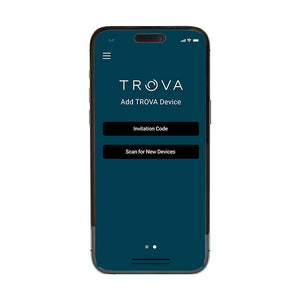 Front LED light will pulse yellow.

If a device is found it will appear on app screen.

Click Add.
Device will then appear in your list of paired devices.

To switch between devices simply swipe left on main screen or tap in settings.


KEY FUNCTIONALITY
Log in to the TROVA APP and explore all the features of your TROVA HOME. Go to Settings menu for access to alerts and notifications.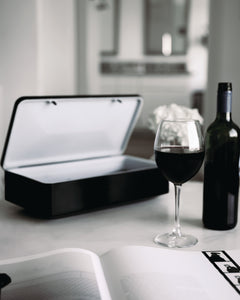 Tight Seal
Your TROVA HOME is equipped with a tight rubber seal to conceal odors. We recommend pressing down on the lid when closing to ensure locks engage and seal.
ByPass Mode
In your settings menu select ByPass Mode and check the box. Now you can double tap the multi-function power button for access to your TROVA HOME.
NFC Access
Fast access with NFC allows you to use your phone like a hotel key and "tap to open".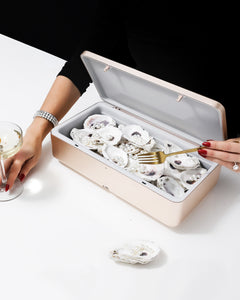 Tamper Alert
When connected to WiFi, TROVA APP will notify users when TROVA is moved, tampered with or bumped.
Theft Alert
When connected to WiFi, TROVA APP will notify users if TROVA is moved out of range and the WiFi connection is broken.
Humidity
TROVA monitors interior temperature and humidity. Those readings can be found in TROVA APP settings detail screen.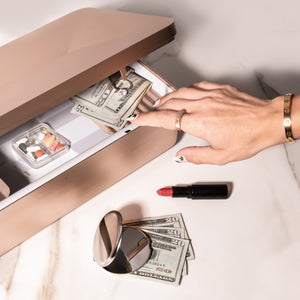 Timed Open Feature
Set TROVA HOME to open at a designated time even with your phone inside. This feature works well for tech time out.
Last Known Location
TROVA pings your location upon each access.
Device Charging with Internal Ports
It is best to have the TROVA plugged into a wall outlet when using internal ports to charge devices. Your TROVA HOME comes with a USB C cord for charging and uses an 2 AMP charger or higher.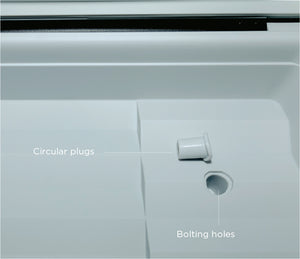 Bolting
TROVA HOME can be bolted to any surface by using internal bolts and locked to anything with Kensington™ locks.
Steps to bolt down your TROVA
Locate bolting screws in accessory box.
Remove the circular plugs on the bottom of the internal tray as shown below.
Fasten bolts to surface (note if mounting to granite/stone you will need to purchase a specific stone screw and drill bit).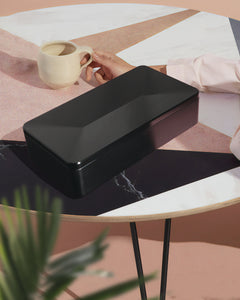 Good to know
Restart or Factory Reset
If TROVA is does not pair or appears to be frozen, restart by unplugging the charging cable, then press and hold the multi-function power button for 30 sec or until the front LED light turns green. Now TROVA has restarted.It is not necessary to pair your device.
To factory reset TROVA please refer to APP. Note: this will delete all user data and require you to begin the pairing process anew.