APP DOWNLOAD
To get the most out of your new TROVA download the app to experience all the capabilities of your TROVA.
Find out more about TROVA
Now let's get you connected.
Make sure you download the TROVA APP on the AppStore or Google Play.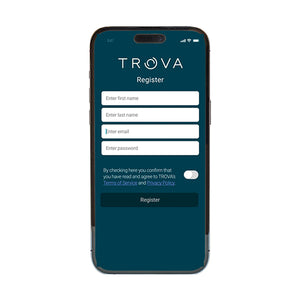 Launch the TROVA app on your smart phone.
Please create an account following the prompts in the app as shown below. Please note you will need to access a verification code sent via email.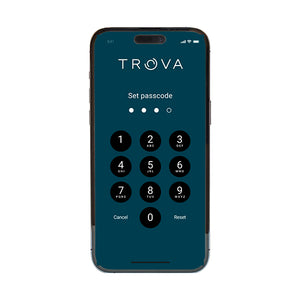 Set your APP Passcode.
Please enter a 4 digit passcode to enter the TROVA APP. This code will grant you access to unlock your TROVA remotely so should be remembered and kept safe.

The app will now ask you to allow it to use your smart phone's native biometrics such as facial recognition (Face ID) or thumb print (Touch ID).

(HOME SPECIFIC) To turn on your TROVA HOME, press the multi-function button located on the back side of your TROVA. The front LED light will pulse green which indicates your TROVA is on.
To turn on GO/GO+ PLUS The LED light will pulse green which indicates your TROVA is on.

Next, follow directions on the app, making sure Bluetooth is on in your smart phone's settings.

The app will automatically search for a new device within a 5-10 foot range.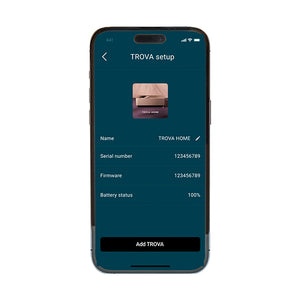 TROVA APP will show the device that has been found.
Front LED will turn solid blue (HOME) or white (GO/GO+ PLUS) indicating TROVA unit has been found.

Feel free to customize the name of your TROVA (for example SANDSTONE LIVING ROOM).

Click Add TROVA.

A solid green (TROVA HOME) or white (GO/GO+ PLUS) LED light will glow for 5 seconds to show that TROVA is paired.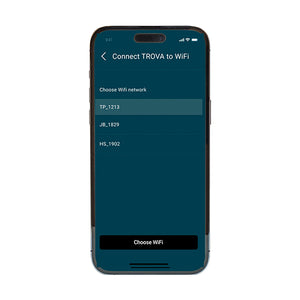 Connect your newly named TROVA HOME to WiFi.
Choose your WiFi, enter password.

Click connect. (HOME only)

While connecting a yellow LED light on the front of your device will pulsate on TROVA HOME.

Once WiFi is connected, the light will glow solid green for 5 seconds.

The app will take you to the main screen and you can see TROVA HOME there.

If you do not see your TROVA HOME on the app screen swipe left to add the device and repeat the above pairing sequence. For additional troubleshooting please go to www.trovaofficial.com/FAQs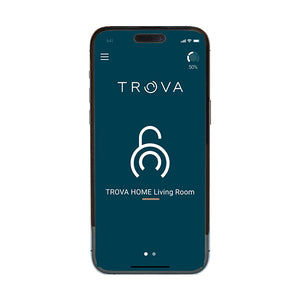 Success!
You are now paired, authenticated and ready to unlock your TROVA.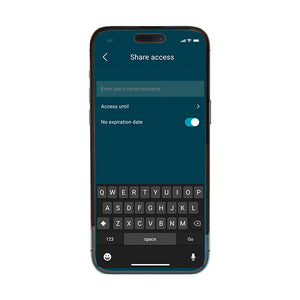 Share access & add users
On main screen press and hold the device name.

Choose Shared Access.
Input the necessary fields.

Confirm all the information.

Viola! Feel free to share the link provided to your new TROVA user.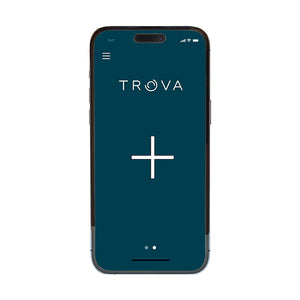 Add a new device to an existing account
Log into your TROVA app

Main screen will show any currently paired devices.

Swipe screen to the left and you will see a + sign.

Click to scan for new TROVA devices.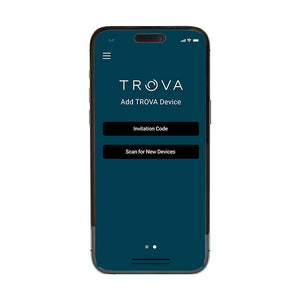 While connecting TROVA HOME LED light will pulse yellow and on GO/GO+ PLUS light will pulse white.

If a device is found it will appear on app screen.

Click Add.
Device will then appear in your list of paired devices.

To switch between devices simply swipe left on main screen or tap in settings.