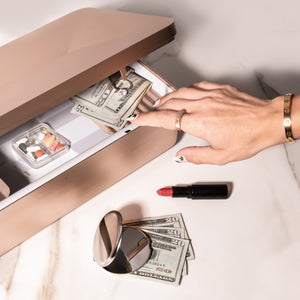 A lil bit about TROVA
Do you own and use a safe? Why not? The answer is simple. Traditional safes are annoying to use, clunky to live with and often pretty dumb.
Meet TROVA. The evolved biometric smart safe that can be conveniently placed throughout your home and safely accessed using all the smartest tech.
We enabled TROVA with a collection of smart features to give you peace of mind knowing that your personal items are secured. TROVA pairs easy, frequent access with total security. We designed TROVA for the way you live your life.
A safe that belongs on the bookshelf, not in the basement. It's biometric storage for cash, jewelry and shenanigans.
TROVA is a modern evolved safe.
Easy to access, smart and convenient.

It's peace of mind in plain sight.
If you feel inspired to post your TROVA, please use #mytrova and tag us @trovaofficial. We appreciate your support. We hope to add more spontaneity to your life, with fewer hesitations. Enjoy your TROVA!
Scott + Jonell, Founders